Acute hemorrhage is arbitrarily defined to be bleeding between 12 hours and 2 days old. Hemorrhages occurring within the first 12 hours are called hyperacute, while those between 2 days and 2 months old are called subacute.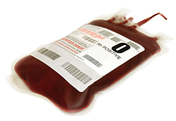 The stage of acute hemorrhage is characterized by robust formation of deoxyhemoglobin (deoxy-Hb), the hemoglobin species that has lost oxygen from its heme binding sites. Blood containing substantial quantities of deoxy-Hb is easily recognized by its dark purplish-red color, such as that seen in venous blood samples.
---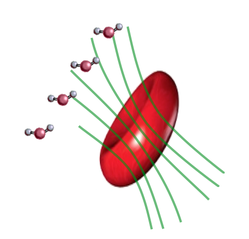 Deoxyhemoglobin formation typically begins at the periphery of a hematoma and gradually spreads inward. Deoxy-Hb, with 4 unpaired electrons per iron atom, is strongly paramagnetic. Because it is concentrated within RBCs, deoxy-Hb produces susceptibility-induced distortions of local magnetic fields. As water molecules diffuse past RBCs they encounter field variations on the order of 0.2-0.4 ppm. This results in accelerated dephasing and loss of signal on T2/T2*-weighted images.

This marked dephasing due to concentrated deoxy-Hb spills over into diffusion-weighted images, producing the so-called "T2-blackout effect." In reality, diffusion remains restricted in the center of acute hematomas, just as it does in hyperacute ones. However, the expected high signal on DW images representing restricted diffusion is masked by susceptibility-induced signal loss.

Although T2 and T2* are significantly shortened by the acute hematoma, T1 values are relatively unaffected. This is because the conformation of the globin proteins do not allow water molecules close access to the paramagnetic centers of deoxy-Hb. Outer sphere relaxation mechanisms predominate, resulting in strong effects on T2 with little or no change in T1 values. Thus, as with hyperacute hemorrhages, T1-weighted images remain isointense to brain.
---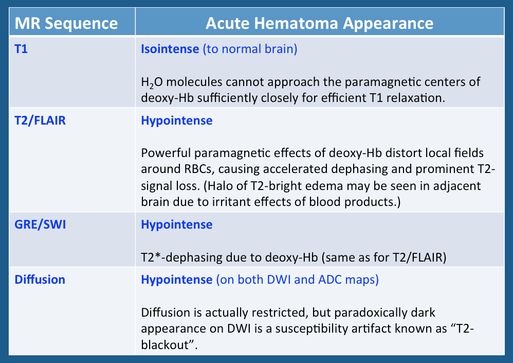 Above: MR images obtained about 18 hours after hemorrhage with prominent deoxyhemoglobin formation. Hematoma is isointense to brain on T1-weighted image (top left). Center of hematoma is markedly hypointense on T2 (top center) and T2-FLAIR (top right) images. A halo of high signal edema in the surrounding brain is noted. GRE image (bottom left) shows loss of signal due to T2* dephasing from paramagnetic deoxy-Hb confined to RBCs. DW image (bottom center) and ADC map (bottom right) both have dark centers, due to strong paramagnetic artifacts and the T2-blackout effect. Susceptibility artifacts make accurate calculation of ADC values difficult (manifest by specked appearance)
---
---
---