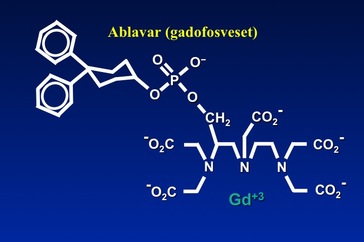 Ablavar® (gadofosveset) is the most recently approved gadolinium-based MR contrast agent, designed specifically for vascular imaging. As seen in the structural diagram right, Ablavar® is a derivative of Gd-DTPA with a diphenyl-cyclohexyl-phosphate group attached to the ligand. This moiety results in appreciable (80-90%) reversible, noncovalent bonding to plasma proteins (principally albumin) when injected into the blood. Thus the drug remains primarily intravascular for several hours. Only a relatively small amount reaches the extracellular spaces, so Ablavar® cannot be used interchangeably with other nonspecific gadolinium-contrast agents (to look for blood-brain-barrier breakdown, for example).

Albuin binding slows the correlation time of the Ablavar® molecule making it more efficient at T1-relaxation. Hence its relaxivity in plasma at 1.5T is approximately 5x higher than Magnevist® (Gd-DTPA) on a molar basis. However, because the administered dose of Ablavar® is only about 1/3 that of Magnevist®, this relaxivity advantage is not fully realized.
---
Ablavar® gradually dissociates from albumin and is primarily eliminated in the urine by glomerular filtration. It has a serum half-life of 2-3 hours. About 5% is excreted in the feces. If needed, it can be removed by hi-flux filter hemodialysis.
The recommended dose is 0.03 mmol/kg, which is typically diluted with saline to a volume of 15-30 mL. Rapid IV injection is then performed over 30 sec, followed by a saline flush. Dynamic T1-weighted MR image acquisition is begun near the estimated time of bolus arrival to produce a "first pass" arterial phase image. Later, "steady state" images can then be acquired showing distribution through the entire vascular system (arteries and veins).
| | |
| --- | --- |
| You may enjoy this manufacturer's video where several experts describe their experience with Ablavar® for aorto-iliac imaging. | |
---
---
---