It is indeed true that the chemical shift between water and fat protons produces both a frequency shift and a phase shift between the two species. In routine spin-warp imaging, however, the resulting extra phase of fat protons relative to water protons does not accumulate from one phase-encoding step to the next. The differential phase shift between water and fat is therefore constant at a given location between successive phase-encoding steps. Since the Fourier transform takes into account the phase difference in assigning spatial location to a signal in this direction, no water-fat misregistration will occur along the phase-encoding axis in routine spin-echo or gradient-echo imaging.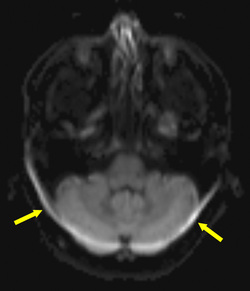 In echo-planar imaging (EPI), however, exactly the opposite phenomenon occurs. Here, chemical-shift artifacts are minimal in the frequency-encode direction but may be extremely large in the phase-encode direction! The reason for this difference between spin-warp and echo-planar techniques lies in the way data is collected in the latter.

In EPI all the lines of raw data are collected immediately following a single RF excitation. The bandwidth per pixel in the frequency-encode direction is extremely large (i.e., on the order of 50-100kHz), so that chemical-shift artifacts are not noticeable. In the phase-encode direction, however, the bandwidth per pixel is extremely small (i.e., on the order of 1kHz), since all the phase-encode lines are acquired in only a few dozen milliseconds. At 1.5 T the fat/water chemical shift is about 215 Hz, and this low bandwidth in the phase-encode direction is translated into a noticeable artifact 10+ pixels in width. Special corrections and modifications to the echo-planar technique must be made to minimize the fat signal and eliminate this artifact.
---
---
---
---