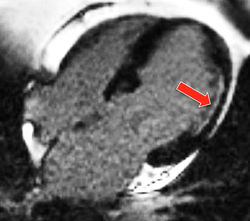 Gadolinium (Gd)-containing contrast media are widely used in cardiac MR to assess the myocardium. These agents do not enter intact myocardial cells, but distribute in the interstitial/extracellular spaces of the heart within a few minutes after intravenous injection. T1-values are shortened wherever gadolinium accumulates, resulting in high signal on T1-weighted images.

Both normal and diseased myocardium will take up gadolinium contrast and exhibit enhancement. The rates of gadolinium accumulation and washout depend on multiple factors, including presence/type of heart disease, myocardial blood supply, heart rate, hematocrit, and renal function. Many diseases result in myocardial fibrosis with expansion of the extracellular compartment. As shown in the diagram below, the relative contrast enhancement between normal and diseased myocardium depends on the time after injection that imaging is performed.

---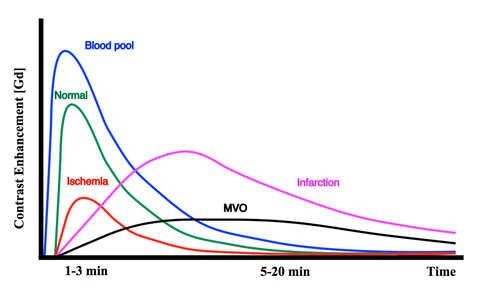 The relative contrast enhancement of normal and diseased myocardium depends on when imaging occurs. In the early stage (1-3 min) gadolinium resides primarily in the blood pool and normal myocardium. In later phases (5-20 min) gadolinium washes out of normal tissues but is retained by pathologic ones. In myocardial infarction, for example, both uptake and washout are slow, so late enhancement is characteristic. This is sometimes called hyper-enhancement in that both infarct and normal myocardium enhance, but the infarct enhances more.
---
Contrast-enhancement in Ischemic Heart Disease
Most patients undergoing CMR are being evaluated for possible myocardial ischemia, and several subtypes of may be distinguished according to their patterns of contrast enhancement:
1. Acute infarction with reperfusion. First pass imaging is normal, but delayed CE seen in segments where myocardial necrosis is present.


2. Acute infarction without reperfusion. This is known as microvascular obstruction (MVO), portending a worse prognostic outcome (heart failure, recurrent infarction, etc). First pass imaging demonstrates a low-signal (nonperfused) core. Late imaging may show either no or very weak delayed enhancement.

3. Stunned myocardium. The myocardial perfusion is normal on early and late contrast images, but contractile function is impaired. This carries a favorable prognosis.

4. Chronic infarction. Characterized by myocardial thinning and fibrosis, first pass imaging is normal to slightly delayed while late contrast enhancement is seen. Note that acute from chronic myocardial infarction may be difficult to distinguish by contrast-enhanced CMR alone. A section of myocardial wall with greater than 50% thickness involved by enhancing scar or fibrosis is unlikely to recover contractile function following myocardial revascularization.

5. Hibernating myocardium. These areas have decreased function and blood flow but no dead cells. They have a normal appearance on early and delayed contrast imaging and good prognosis in response to revascularization. The term "viable myocardium" refers to myocardium that may recover contractile function following coronary artery revascularization.

Contrast-enhancement in Non-ischemic Heart Disease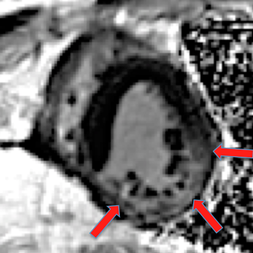 Although late contrast enhancement is characteristic of myocardial infarction, it is not specific. Delayed myocardial enhancement occurs in a wide range of other disorders, including myocarditis, cardiomyopathy, cardiac neoplasms, and genetic diseases.

The pattern of contrast enhancement may offer some clues as to whether one is dealing with an ischemic or non-ischemic process. In ischemic disease contrast enhancement begins subendocardially and spreads transmurally toward the epicardial surface. The enhancement also occurs in a distrubution corresponding to a known coronary artery territory. Conversely, contrast enhancement in non-ischemic heart disease is often located in the mid-wall of the ventricle and may be patchy or multifocal in nature.
---
---
References
Doltra A, Amudsen BH, Gebker R, et al.
Emerging concepts for myocardial late gadolinium enhancement MRI
. Curr Cardiol Rev 2013; 9:185-190.
Juan LJ, Crean AM, Wintersperger BJ.
Late gadolinium enhancement imaging in assessment of myocardial viability. Techniques and clinical applications
. Radiol Clin N Am 2015; 53:397-411.Kim RJ, Fieno DS, Parrish TB, et al.
Relationship of MRI delayed contrast enhancement to irreversible injury, infarct age, and contractile function
. Circulation 1999; 100:1992-2002. (hyperenhancement corresponds to extent of myocyte necrosis and scar in myocardial infarction).
Kim RJ, Wu E, Rafael A, et al.
The use of contrast-enhanced magnetic resonance imaging to identify reversible myocardial dysfunction
. N Engl J Med 2000; 343:1445-53. (reversible myocardial dysfunction can be identified with CE MRI before revascularization)
Moon J.
Late gadolinium imaging quiz
. Society of Cardiovascular Magnetic Resonance, 2007. (
Answers to quiz are at this link
)
---
---