As described
in the prior Q&A
, nearly all the signals we record from solid organs using conventional MRI originate either from water or triglyceride protons. These ¹H nuclei are relatively abundant and possess T2 relaxation times ranging from tens to hundreds of milliseconds.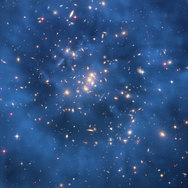 But there is another pool of ¹H nuclei, including those in cell membranes, cortical bone, myelin/sphingolipids, solid fats, proteins, and other macromolecules, whose motions are highly restricted and with T2-values measured in microseconds. Their signals decay so quickly that they are not recorded using conventional MR techniques and can be considered "MR invisible". I commonly refer to them as "dark protons" or the "dark pool". Although these protons cannot be visualized with routine MRI, their signals can be recorded using newer ultrashort TE (UTE) methods.
---
Like dark matter in the universe, dark protons are ubiquitous and constitute at least 20-25% of ¹H nuclei potentially available for MR analysis in most solid organs. It seems clear that our current methods of MRI are missing out on a large fraction of potentially important information!
An
intermediately dark
pool of protons, up to 40% by weight, are present in cartilaginous/fibrous tissues, such as ligaments, menisci, tendons, and periosteum. Their average T2 values lie in the 1-10 ms range, making them relatively "invisible" on long
TE
sequences, but detectable at short
TE's
. Because these tissues contain organized strands of collagen and/or elastin, both relaxation times and susceptibilities vary according to orientation in the main magnetic field. This is the so-called
magic angle phenomenon
described in a prior Q&A
.
---
---
---