Like perfusion metrics obtained other MR methods, quantification of blood flow by ASL is highly desirable but difficult to achieve. The signal intensity difference data (ΔS = Scontrol − Sinversion) provides perfusion-weighted images only. Translating this raw data into absolute blood flow measurements requires three steps: 1) image processing and filtering to remove artifacts; 2) acquisition of a separate proton density (PD) or T1 image map for scaling signal intensities; and 3) fitting of data to a mathematical model to calculate blood flow on a pixel-by-pixel basis.
Image Processing and Filtering
Before attempting to quantify blood flow, raw data from an ASL study must be "cleaned" up as much as possible. Some degree of patient movement commonly occurs between the tagging and control acquisitions, and so rigid-body motion correction techniques are typically applied with co-registration and "de-noising" using a Gaussian smoothing filter. Segmented gray matter and white matter images may be generated and processed separately to minimize partial volume effects.
| | | |
| --- | --- | --- |
| More severe and random errors (such as the gradient malfunction shown right) may be identified by outlier analysis, where differences between control and tagged data are discarded when exceeding certain predefined thresholds. Oval "masks" are commonly generated to exclude out-of-brain voxels. Statistical techniques using independent component analysis may be applied to further reduce noise. | | |
Calibration Images for Scaling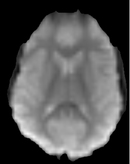 For quantification of blood flow, arbitrary ASL signal intensities of perfusion-weighted images must be scaled to M0b, the equilibrium magnetization of arterial blood. In theory, M0b could be measured from a pure arterial voxel, but this is not practical because of the small size of such vessels and associated partial volume effects. Instead, M0b is usually calculated indirectly by measuring the equilibrium magnetization of brain or CSF from a separately acquired proton-density (PD) weighted image. The PD data is converted to M0b using corrections for TR, tissue T1, and the blood-brain partition coefficient (λ).
---
Mathematical Modeling and Data Fitting
The final step is to fit the filtered and calibrated ASL data to a mathematical model, computing quantitative blood flow measurements on a voxel-by-voxel basis. The most widely used is Buxton's
general kinetic model
, a single-compartment, plug-flow model whose parameters are estimated using a linear systems approach and deconvolution similar to those described for DSC imaging in a
prior Q&A
.
The final equations for calculating blood flow (F) depend on multiple measured and estimated parameters as well as the precise ASL pulse sequence employed. Just to give the reader a taste of the complexity, here is the equation currently used on GE systems for their 3D pCASL technique based on the work of Alsop et al:

The individual terms include: the factor 6000 (to convert units into mL/min/100 g tissue); λ, the blood-tissue partition coefficient (commonly assumed to be 0.9 for brain); TRPD, the repetition time of the saturation recovery proton density calibration sequence; T1T and T1b, the relaxation times of tissue and blood (commonly assumed to be 1.2 sec and 1.6 sec at 3.0T, respectively); SIcont, SIinv, and SIPD, the signal intensities of corresponding control, labeled/inverted, and proton density weighted pixels; PLD, the post labeling delay time between the end of the pCASL inversion component and image acquisition; LT, the labeling time, or duration of the pCASL inversion; α, the labeling efficiency of the pCASL inversion (typically assumed to be 0.8); σ, the suppression efficiency of the background saturation pulses (typically assumed to be about 0.75); KSF, a scaling factor for the perfusion-weighted sequence; and NEXPW, the number of excitations (signals averaged) for the ASL sequence.
The purpose of providing this equation is not to bewilder the reader, but to illustrate the multiple parameters that must be either assumed or estimated to calculate true blood flows from ASL data. A small error or variance in any of these parameters could easily alter the final calculation by 30% or more. Scaling factors can be empirically adjusted to keep calculated blood flows within expected physiological ranges, but I caution users to maintain a healthy skepticism about accuracy of values so obtained. Like other MR perfusion methods, ASL blood flow measurements remain most useful in a qualitative sense, comparing corresponding regions of the brain (or other organs) relative to one another.
---
References
Alsop DC, Detre JA, Gola X, et al.
Recommended implementation of arterial spin-labeled
perfusion MRI for clinical applications: A consensus of the ISMRM perfusion study group and the European consortium for ASL in dementia
. Magn Reson Med 2015; 73:102-116.
Buxton RB, Frank LR, Wong EC, et al.
A general kinetic model for quantitative perfusion imaging with arterial spin labeling
. Magn Reson Med 1998; 40:383-396.
Herscovitch P, Raichle ME.
What is the correct value for the brain-blood partition coefficient for water?
J Cereb Blood Flow Metab 1985; 5:65-69. (Answer: probably about 0.90 ml/g)
Mutsaerts HJMM, Steketee RME, Heijtel DFR, et al.
Inter-vendor reproducibility of pseudo-continuous arterial spin labeling at 3 Tesla
. PLOS One 2014; 9(8):e104108.
Petersen ET, Lim T, Golay X.
Model-free arterial spin labeling quantification: approach for perfusion MRI
. Magn Reson Med 2006; 55:219-232. (QUASAR method)
Petersen ET, Zimine I, Ho Y-C L, Golay X.
Non-invasive measurement of perfusion: a critical review of arterial spin labelling techniques
. Br J Radiol 2006; 79:688-701.
Wang Z.
Arterial spin labeling perfusion MRI signal processing toolbox (ASLtbx)
. Version 1, May 2012. (manual for a freely available MATLAB-based toolbox for processing ASL data).
Williams DS, Detre JA, Leigh JS, Koretsky AP.
Magnetic resonance imaging of perfusion using spin inversion of arterial water
. Proc Natl Acad Sci USA 1992; 89:212-216. (derives modified Bloch equations to account for inflow of inverted spins)
Wong EC.
Quantifying CBF with pulsed ASL: technical and pulse sequence factors
. J Magn Reson Imaging 2005; 22:727-731.
---
---