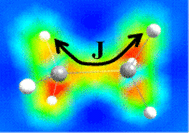 Splitting of spectral peaks into doublets, triplets or higher order multiplets results from an electron-mediated interaction of two nuclear spins residing on the same molecule. The phenomenon is known as J-coupling, whose mechanism is described more completely in the Advanced Discussion. In brief, the spin of one nucleus polarizes its valence electrons, and this polarization is transferred via bonds to affect the spin of a distant nucleus.

For a spectral line to be split via J-coupling, at least two requirements must be met: 1) the nuclei must lie in relatively close proximity to one another, typically less than 3-4 bonds away, and 2) the nuclei must be chemically distinguishable. The latter criterion means that the four ¹H nuclei of methane (CH4), for example, will produce a single (unsplit) spectral line, as they are chemically and magnetically identical.
---
​If you ever took a college-level organic chemistry course you probably did homework problems using J-coupling to determine the structure of simple compounds such as chloroethane pictured below. (Although like most of my students, you may only vaguely remember having done this!)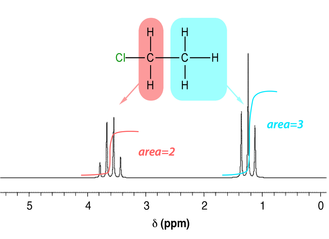 ​Chloroethane (CH3-CH2-Cl) possesses ¹H-nuclei in two different molecular environments: methyl (−CH3) and methanediyl (−CH2−), with principal resonances at δ ≈ 1.2 and 3.6 ppm respectively. As shown in the high-resolution laboratory NMR spectrum, the two main spectral lines are split (into a triplet and quartet respectively) due to J-coupling.

The spacing between the subpeaks in a multiplet is determined by the coupling constant (J), which for chloroethane has a value of approximately 7 Hz. J is independent of field strength and hence is reported in Hz rather than ppm. For ¹H-¹H coupling in organic molecules, J usually lies in the 0−20 Hz range.

The number of times a given ¹H spectral line will be split can be predicted by the n+1 rule which states that the number of multiplets is one more than the number of hydrogens (n) attached to immediately neighboring carbon atom(s). For cholorethane, the −CH3 hydrogens interact with n = 2 hydrogens on the neighboring carbon (−CH2−), and are hence split into a triplet (2+1=3). Conversely the methanediyl (−CH2−) hydrogens interact with n = 3 methyl (−CH3) hydrogens and are split into a quartet (3+1=4). The relative heights of multiplet subpeaks typically follow the binomial coefficients of Pascal's triangle (1:2:1, 1:3:3:1), while the relative areas under each cluster (3 and 2) reflect the numbers of ¹H-nuclei in each chemical group.
---
| | |
| --- | --- |
| | In brain MRS the ¹H nuclei giving rise to the three largest peaks — N-acetyl aspartate (NAA), choline (Cho), and creatine (Cr) — do not have nearest neighbor protons, do not experience J-coupling, and manifest as singlets. When present, however, the principal peak of lactate near δ = 1.32 does split into a doublet that is easily visualized. This has given rise to the mistaken notion that lactate is the only peak that splits in the spectrum. This is not true as many metabolites (including NAA) have smaller or secondary peaks that are split by J-coupling (although these may be difficult to see due to their low concentrations or overlap with other resonances). |
---
---
---