Forms of Hemoglobin

Erythrocytes are red due to the presence of hemoglobin (Hb), the conglomerate macromolecule responsible for oxygen transport. Hemoglobin is composed of four subunits, each consisting of a non-protein heme group surrounded by a coiled protein (globin). Each heme group contains of an iron (Fe) ion surrounded by a heterocyclic porphyrin ring.
The iron (Fe) center has 6 potential coordination sites, four of which are occupied by porphyrin nitrogens (N). The fifth coordination site (below the plane of the ring) covalently bonds with a histidine (His) residue from the F8 position of its respective globin chain.

The sixth coordination site (above the plane of the ring) is where all the "action" occurs. This is the place oxygen and other small molecules transiently bind to the iron atom, affecting its electronic structure and magnetic properties. The chemical state of hemoglobin changes sequentially over the first two weeks as a hematoma evolves. Four different hemoglobin species are commonly recognized: oxyhemoglobin (oxy-Hb), deoxyhemoglobin (deoxy-Hb), methemoglobin (met-Hb), and hemichromes, whose structures appear below.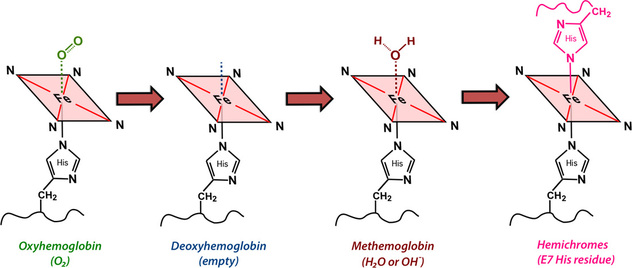 | | | |
| --- | --- | --- |
| Following this evolutionary transition methemoglobin and hemichromes are enzymatically cleaved into multiple small fragments. Iron atoms are released, but coalesce by the thousands into large, chunky metallo-protein complexes known as ferritin and hemosiderin. Ferritin and hemosiderin are engulfed by invading macrophages and ultimately deposit along the walls of the old hematoma cavity. | | |
Magnetic Properties of Hemoglobin Derivatives
The electronic configuration of iron differs among the various hemoglobin species and is primarily responsible for their overall MR properties. The valence state − ferrous (Fe+2) or ferric (Fe+3) − is irrelevant; what matters is the number of unpaired electrons in the entire molecule. The magnetic susceptibility (χ) is proportional to N(N+2), where N = the number of unpaired electrons. The T2 relaxation rate, in turn, is proportional to the square of the magnetic susceptibility (χ²).
The paramagnetic properties of deoxy-Hb, Met-Hb, ferritin, and hemosiderin provide dominant MR image contrast for hematomas imaged at fields over 0.5T, and become increasingly important the higher the field strength.
---
References
Bradley WG Jr.
MR appearance of hemorrhage in the brain
. Radiology 1993; 189:15-26.
Brooks RA, Di Chiro G, Patronas N.
MR imaging of cerebral hematomas at different field strengths: theory and applications
. J Comput Assist Tomogr 1989; 13:194-206.
Gomori JM, Grossman RI.
Mechanisms responsible for the MR appearance and evolution of intracranial hemorrhage
. Radiographics 1988; 8:427-440.
Gomori JM, Grossman RI, Yu-Ip C, Asakura T.
NMR relaxation times of blood: dependence on field strength, oxidation state, and cell integrity
. J Comput Assist Tomogr 1987; 11:684-690.
Pauling L, Coryell CD.
The magnetic properties and structure of hemoglobin, oxyhemoglobin and carbonmonoxyhemoglobin
. Proc Natl Acad Sci 1936; 22:210-216. (first paper describing and explaining the diamagnetic and paramagnetic properties of oxy- and deoxy-hemoglobin respectively)
---
---