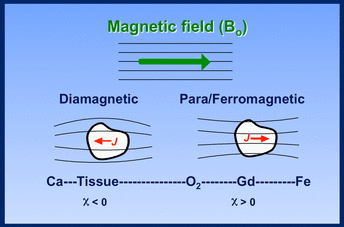 Susceptibility is a measure of the extent to which a substance becomes magnetized when it is placed in an external magnetic field. A synonym for susceptibility is "magnetizability".

When matter interacts with the magnetic field, an internal magnetization or polarization (J) is created that either opposes or augments the external field. J is a quantum phenomenon caused primarily by interaction of electrons with the external magnetic field.

If the polarization opposes the applied field, the effective field within the object is reduced, the lines are dispersed, and the effect is known as diamagnetism. If the polarization is in the same direction as the external field, the magnetic lines are concentrated within the object, resulting in paramagnetism, superparamagnetism, or ferromagnetism, depending on the degree of augmentation.

Magnetic susceptibility, is denoted by the Greek letter chi (χ), is defined as the magnitude of the internal polarization (J) divided by the strength of the external field (B):
---
χ = J / Bo

Since it is the ratio of two magnetic fields, susceptibility is a dimensionless number. Diamagnetic substances have negative susceptibilities (χ < 0); paramagnetic, superparamagnetic, and ferromagnetic substances have positive susceptibilities (χ > 0).

Nearly all biological tissues are weakly diamagnetic. However, some tissues contain focal accumulations of metals such as iron, gadolinium, copper, or manganese that concentrate the magnetic field and are therefore paramagnetic. A few tissues also contain chunky iron-based protein conglomerates (ferritin and hemosiderin) that are superparmagnetic.

Susceptibility-weighted imaging (SWI) allows detection and characterization of tissue components based on differences in their susceptibilities. How this is accomplished forms the subject of the next several Q&A's.
---