A fundamental property of resonance phenomena in any media (mechanical, electrical, acoustic, magnetic) is that the response is maximal at a specific frequency and requires energy input including that frequency.
| | |
| --- | --- |
| | A familiar example is pushing a child on a swing. The child-swing system, like a pendulum, has a natural resonance frequency that depends on the weight of the child and the length of the chains. Optimal swinging height is achieved when the frequency of pushing closely matches the natural frequency of the swing. Pushing faster or slower provides a less efficient transfer of energy. |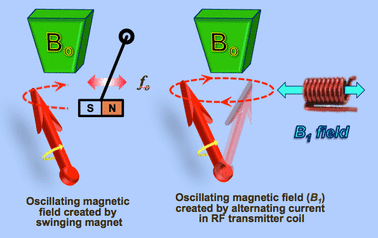 The same situation holds for NMR. Here the energy is supplied in the form of a rotating magnetic field, denoted B1, which is applied for a short time in the plane perpendicular to Bo. To supply energy to the spin system and tip the net nuclear magnetization (M), the B1 field must rotate very near the resonance (precession) frequency of the protons. If B1 rotates at any other frequency then it would be alternately in and out of phase with the spins which produce M. Only when the rotation rate of B1 closely matches the precession frequency can M and B1 remained locked together in the appropriate relation for tipping and energy exchange. The absorption and exchange of energy constitute a resonance phenomenon, sharply tuned to the natural nuclear precession frequency.

The natural precession frequency of a spin system is also known as the Larmor frequency.
---
---
---
---