Thermal/electrical burns account for nearly two-thirds of clinically significant patient injuries in MRI. Most occur in the upper extremities or torso. Common causes are include: contact with a conductive object (e.g. RF coil, EKG pads/leads, clothing); contact with the wall of the scanner bore; and direct skin-to-skin contact.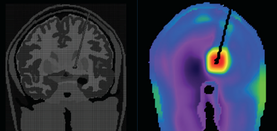 Three physical mechanisms underlying RF-induced thermal injury are recognized:
Inductive heating. According to Faraday's Law, a changing magnetic field generates electrical currents, called eddy currents, in conductive materials. The human body is a reasonable conductor (owing to the presence ions in extracellular in intracellular fluids), and, of course, metallic foreign materials are excellent conductors. When electric currents are channeled into a small area of high resistance (such as a metal-skin interface), heat is generated that may result in burns.
Heating of a resonant loop. Certain electrical circuits are known to resonantly absorb and release energy at a specific frequency if they form a loop that contains both capacitance and inductance elements. For example, a coiled wire lying on a patient's stomach might contribute inductance, while the skin-metal interface at radiofrequencies becomes capacitive. Although a relatively uncommon situation, resonant loops may generate the highest level of inductive heating with burns possible.
Antenna effect. Wires and elongated conductive objects can act like antennas, capturing electromagnetic waves to extract power from them. Antennas produce standing-wave patterns of voltage and current that are concentrated near their tips, maximal when their length is one-half of the RF wavelength. For MRI, therefore, wires measuring about 26 cm at 1.5T or 13 cm at 3.0T are the most likely to create heating problems.
---
Surprisingly, many patients do not even know they are being burned and may only notice nothing or only minor pain or redness immediately after the scan. (The best theory for this is that the bulk of the initial injury has begun in the subcutaneous fat which lacks pain sensors.) It is not rare for patients to report blistering or increased redness and pain more than 24 hours after imaging.
Below are examples of various thermal/electrical burns, most of which could have been prevented with proper screening and patient management.
---
References

Delfino JG, Krainak DM, Flesher SA. MRI-related FDA adverse events reports: a 10-yr review. Med Phys 2019; 46:5562-5571.
[DOI LInk] (summary of 906 injuries from 2008-2017)
Dempsey MF, Condon B, Hadley DM. Investigation of the factors responsible for burns during MRI. J Magn Reson Imaging 2001; 13:627-631. [DOI Link]

​
Hardy PT, Weil KM.
A review of thermal MR injuries
. Radiol Technol 2010;81:606-9. (summary of thermal injuries from 1997-2009).
Iacono MI, Makris N, Mainardi L, et al.
MRI-based multi scale model for electromagnetic analysis in the human head with implanted DBS
. Comput Math Methods Med 2013; 2013:694171. [
DOI Link
]
Lee C-M, Kang B-K, Song S-Y, et al.
MRI induced second-degree burn in a patient with extremely large uterine leiomyomas: a case report
. J Korean Soc Radiol 2015; 73:424-427. [
DOI Link
]
Othman D, Abdel-Rehim S, O'Boyle C.
MRI-induced burns from ECG leads: thermal or electrical burns?
Ann Burns Trauma 2017; 1:104.
Sung SJ, Park YS, Cho JY.
Full thickness burn on the finger due to pulse oximetry during magnetic resonance imaging in a conscious patient
. Arch Plast Surg 2016: 43:612-613. [
DOI Link
]
Tokue H, Tokue A, Tsushima Y.
Unexpected magnetic resonance imaging burn injuries from jogging pants
. Radiology Case Reports 2019; 14:1348–135. [
DOI Link
]
[Vister J, van Erling L, Steens SC, Meljer FJA.
Brandwonden tijdens een MRI-scan
("Burn during an MRI scan"). Ned Tijdschr Geneeskd 2014; 158:A7927]
Dutch
---
---